Who We Are
DELLA JUSTICE & TROY PRICE
Della Justice: I remember sitting on my grandparents' front porch listening to the creak of the porch swing as my grandfather hummed hymns.  My grandmother would wave at neighbors going by and ask them onto the porch to sit and talk. On that porch, you could learn who was going into town that day, what was happening up the road, and laugh over old stories again and again.
Troy Price: I grew up on my family's farm. Our front porch was small, but we had the radio on all the time. We set our clocks to hear the local news and find out where the best deals were. We would rush to the phone when it was time for "Trade-io" and when tickets or other giveaways were announced. And during snowstorms we literally gathered around the radio to hear if there was school. The people we listened to on the radio were like part of the family. We liked what they had to say.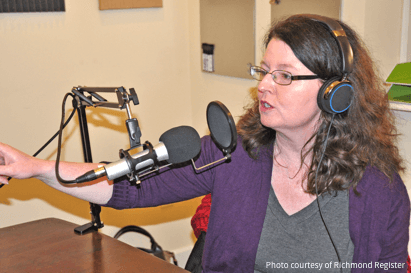 We think people miss this kind of talking and listening.  Not small talk. Rather, informative and entertaining and personal conversation.  We think there are lots of people and organizations who have something valuable to say and Front Porch Studios offers this opportunity.
To us, podcasts are the 21st Century's front porch.  They are a way to keep up-to-date with today's news and connect with people nearby and across the globe who share similar interests.
Troy Price began podcasting in February of 2006. He has produced hundreds of episodes covering topics such as TV Shows, Crossword Puzzles, Grants Management, and Entrepreneurial Efforts. He has written for Industry publications on Podcasting and presented trainings on both the technology and power of the medium. Troy's passion has converted Della. She has co-hosted a podcast with a friend and with Troy over the years since 2013.  She appreciates the deeper learning and connection that happens in the long conversations allowed in a podcast. You can start podcasting now on your own and be skilled in the 2030s, or start putting Troy to work for you today.